Goddard ground attack has Mustangs' attention
5-1 Lions averaging nearly 300 yards rushing per game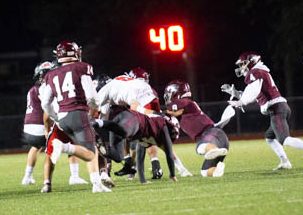 With a defense allowing an average of 283.4 rushing yards per game, a looming question going into tonight's game at Goddard is the defense's ability to hold up against the Lions' rush-heavy offense.
"Goddard is a tough prep for us," Central defensive coordinator Austin Kingsbury said. "They are similar to Valley Center because they are going to run the ball 90 percent of the time."
A sturdier rushing defense could be the answer to the 4-2 Mustangs beating the Lions, who are 5-1 this season.
"We feel strong about our game plan," Kingsbury said. "We just have to be sound in our assignment, be more physical than Goddard in the box, and we have to tackle well."
Players seem to be getting the message, as defensive players have been improving against the run during practices, Kingsbury said.
"We just have to match their physicality and speed," sophomore defensive end James MacKinney said. "If we all stay 100 percent every play, then I think we'll be just fine."
Although the Mustangs have been dominant on offense, scoring an average of 47.8 points per game, the defense has struggled, allowing 31.5 points per game.
The Lions average 50 rushing attempts and 279.3 yards per game.
The coaches have been working to revitalize the struggling rush defense, Mustang head coach Mark Sandbo said.
"I think we've been doing a lot of good things," Sandbo said. "We've become better tacklers and better against the pass."
Even with defensive struggles, the Mustangs offense – led by the three-headed monster of junior quarterback Gunnar Gross, senior running back Kenyon McMillan and sophomore wide receiver Hunter Mowery – can still shine against Goddard.
"I would say Gunnar's thrown the ball really well," Sandbo said. "I'm definitely impressed with what we've gotten from Gunnar."
Leading on the ground is the combo of Gross and McMillan, who have combined for 1,459 rushing yards through six games.
"We utilize the run well," Sandbo said. "Running the football, we remove some variables and get the ball in some playmakers' hands."
Even though the Mustangs are inching closer to the playoffs, the team still has the same expectations, discipline and culture, Sandbo said.
"We feel like we're in step right now," he said. "We're expected to play our best this time of year."
Even with the playoffs looming closer, the Mustangs are still taking it step by step and focusing on each opponent, Sandbo said.
"We have to play well," he said. "If things play out as well as they could, we could be as high as the fourth seed."
The Mustangs only have 10 seniors on varsity, leaving the underclassmen to anchor the team for years to come, and they have to be ready for the bright lights of the playoffs.
Even with limited senior help, the underclassmen have shown strength and proven that they can continue the success of the program, Sandbo said.
"I'm very pleased with the resilience and resolve of our kids," he said. "There's added pressure, but I think our guys are ready for the speed of that type of game."
An underappreciated part of the team is the assistant coaching staff, who have been able to talk up players and switch up game plans to ultimately win games, Sandbo said.
"We have to bring in those assistant coaches and make little changes," Sandbo said. "We change how we approach things, then all of a sudden the team is looking better.
"As long as we don't do foolish things or beat ourselves, we can be pretty excited on Friday night. If things start clicking defensively, we could be a tough out."