Leaving Behind a Legacy
Students reminisce over time with Rohrer, who has decided to retire
As the school year nears its end, so does Benjamin Rohrer's time at Central.
The Mustang bands director has decided to step down after 26-plus years.
Students and staff alike, regardless of their involvement in band or any of the music programs, felt their hearts sink after learning the beloved teacher was leaving. Rohrer's time at Central has brought national recognition to the school's talent.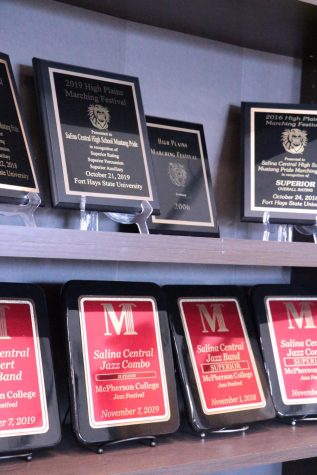 Senior drum major Erin Flax said she knew his retirement was coming. She just didn't expect it to be so soon. 
Flax said she was lucky that she got one last year with him and was able to "see each other out," but that didn't make the news any less sad for her. 
"I've had him since I was in fifth grade," she said. "He's played a huge part in me becoming a musician, and I actually decided I wanted to be a band teacher because of him."
Junior Drew Fields and sophomore Sam Cusick share the same sentiments, but even more so since they both still have some time left at Central. 
"He taught my parents, and he was friends with my grandparents," Fields said. "So I immediately had a connection with him, which was nice."
When students were asked their favorite thing about Rohrer, they all responded with the same thing. It's the fact that he cares about each student individually. He cares about their goals, and he forms a lasting relationship with them. 
"He genuinely wants every student to succeed," Flax said. "No matter how good you are, as long as you're working hard, or even if band isn't your passion, he wants you to be a good person. He wants you to be successful in life." 
Fields said he loved how Rohrer went out of his way to make those personal connections.
"Not every teacher can do that," he said.
Cusick, a member of the school's jazz combo, said Rohrer's guidance and encouragement were invaluable to him.
"He really helped the students who really wanted to play," he said. "He made that combo for me, Nelson (Gutsch), the rest of them. He really brought that to life."
Each student has their own unique treasured memories, but they all centered around the fun conversations they've had with Rohrer. Flax said he is like a trusted friend with whom she has shared meaningful conversations which will be remembered forever. 
In many ways Rohrer is irreplaceable, Flax said.
"In order to successfully corral the band, it's more than just making sure that everyone sounds good," she said. "You have to know and care about the students." 
Fields said the band will welcome Rohrer's replacement, but he acknowledges that things will never be the same without him.
"Things are going to dramatically change, since he has such a unique way of doing things," Fields said. "But, it'll be fairly easy to change over just because everyone is so welcoming."
Rohrer, who started at Central in the fall of 1994, said he's disheartened to leave his classes behind, but he wanted to make sure he saw this year's senior class out.
"I actually still have classes I want to see through," he said. "But I mean, this year with the beginning we had for someone who is not young and energetic anymore … this was a struggle. This is a young person's game and I really feel like someone with a younger kind of energy will be able to come in here and infuse some good things into the program. I think it's time for that."
Rohrer said that COVID-19 wasn't a huge factor in his decision, but it still played a role. 
"You know, it kind of was reinventing the wheel these first nine weeks, and I'm sure a lot of teachers will tell you that," he said. "So I suppose that's got something to do with it because that was like going back to when I was 20 again in 60-year-old bones."
In retirement, Rohrer will take with him more than 26 years of unforgettable memories. 
"I used to have seniors do what they called 'band videos,' and they would do all sorts of pranks," he said. "I didn't really care for the pranks. I mean, some of them were funny. One time they stole my truck. That was kind of fun. Well I don't know if that was really fun though. Fun for them. And fun to get my truck back. 
"Then one time, my daughter was in band, and she invited the drum line over to our house. At two in the morning. And they came into the living room, and all of the sudden— my wife and I were of course in bed — I hear 'Rufio! Rufio!' in the living room! So that was kind of fun."
Other than the shenanigans that were always afoot, Rohrer remembers his time as a Mustang fondly. He credits the start of his Central career to Gail McMillen, who's been a great friend to him over the years. 
"Working with your friends, people that you enjoy, and really surrounding yourself with good people — that's what life's all about," he said. "And that's what I did."
Now, he's working on plans for the future. 
"Nothing is written down yet, but there's a couple of irons in the fire," he said.  
It's going to be hard to let him go, but Rohrer will always have a home at Central High.
"I'm a Mustang for life," he said.