Third Time's the Charm
Central's new theater director has already left impressive impressions
A lot has changed for the theater department with three different directors in the last three years.
The school year started off with lots of questions regarding theater and what the fate of Troupe 639 would be. Would they be able to perform or have any kind of theater-related activities? And most importantly, who's going to be the next director and what will they be like?
All of those questions were answered by one of Central's newest additions: Barb Hilt, who moved here from Garden City.
Junior Lillie Myers and sophomore Harper Johnston said they have been thoroughly impressed by what Ms. Hilt has already done for the program.
"The troupe as a whole is much more efficient and organized under Ms. Hilt," Johnston said.  "I feel like we accomplish a lot more in a shorter amount of time, and everyone works a lot harder. Dedication to the troupe has really gone up this year, and it's nice to see."
Myers said she has seen a lot of change for the better.
"Ms. Hilt is very dedicated to her job and the students she teaches, and she comes with a lot of years of experience," Myers said. "Our executive board runs a lot smoother with Ms. Hilt guiding us, and our shows are directed with efficiency and concern for the entire production.
"The quality within our department is higher now that we have a website for ticket purchases and online streaming. Our sets and lights have been reworked, and we now have a better-equipped space to really be challenged and grow as actors."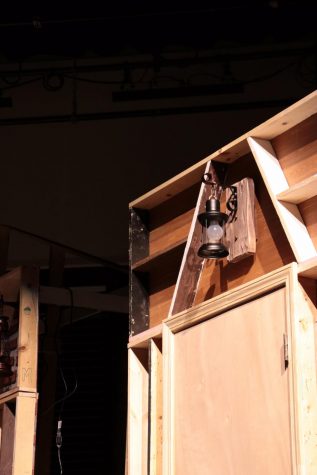 It's only January and Hilt has already accomplished a lot. Her first-ever production at Central ("Antigone") was selected for a tri-state festival, which encompasses Kansas, Oklahoma and Texas. That's quite an honor considering that Texas has the largest high school thespian chapter in the country and perhaps in the world, Hilt said. 
So not only was Central able to put on a production, it also was able to share it with other thespians across the country.
Every year, most states hold a thespian festival — an event that connects all their troupes for a weekend full of workshops, performances and socializing. Usually, they are in person. The Kansas Thespian Festival typically uses Century II in Wichita to host hundreds of students and teachers for three days.
This year, that wasn't quite possible. However, Kansas partnered with Texas and Oklahoma to put on a virtual festival. Hilt actually was the one who spearheaded the production and worked with the other states to create something digital for the students.
They partnered with 3M Productions, which built them a digital, interactive platform. She said it was much more immersive than just "hopping onto Zoom with people for a workshop." Students could attend events and watch different productions, all from the comfort of their bedrooms.
One of those productions was Central's "Antigone," which was recorded and submitted for consideration. Judges from the three states selected three Kansas shows and a few from Texas. 
Juggling a festival and a new job certainly hasn't been easy, Hilt said.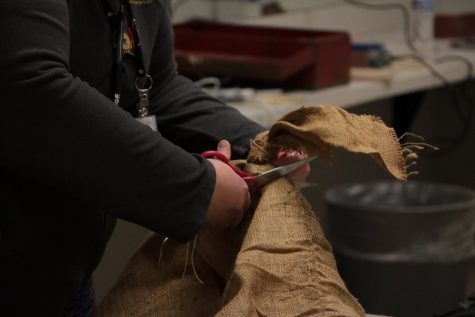 "Switching jobs, switching districts, going to a new building and a new district has been one heck of an adjustment," she said. "I'm used to having a lot more people around me adult-wise helping, so that has been kind of tricky and difficult.
"It's been so nice to have Mr. Jones, and some of these parents who have come in and been really helpful — helping with box office and things like that. Especially Julie Kitchener." 
Hilt has been doing a lot on her own since she's been at Central, but the department is already seeing a higher quality of productions, Myers said. She's worked closely with Jones and other students who are well-versed in the technical side of theater to make the shows better looking and sounding.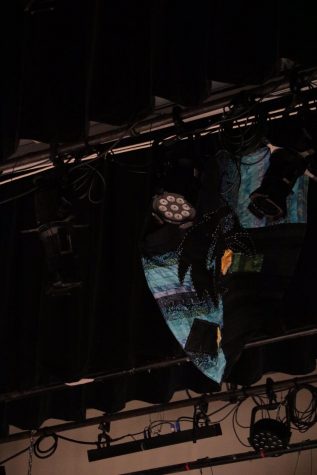 Central's next performance will be "Puffs, or Seven Increasingly Eventful Years at a Certain School of Magic and Magic," which is a retelling of the well-known "Harry Potter" series but from a different perspective. Hilt's been working nonstop with the students, directing them and helping build the set and costumes. The show is scheduled to run February 12-14 with two evening shows and a Sunday matinee. 
Johnston said Hilt's biggest accomplishment has been how she pulled the troupe together.
"Hilt is really good about getting people invested in the troupe and wanting it to do well," she said.  "And she's great about teaching everyone new skills. I've already learned so much with her help, so I'm super excited to gain even more opportunities to help out with productions.
"I think the future of our theater program is really looking up. Ms. Hilt really has a vision for each show, so it's nice to see how plans play out."