Capitol Offense
Students appalled by storming of U.S. Capitol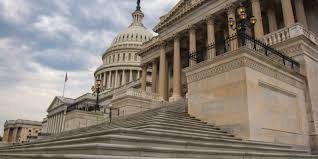 Junior Isaac French said he was very let down when he heard about the storming of the U.S. Capitol earlier this month.
 "I feel it was wrong, and I felt angered and saddened by it," he said, adding that it was an embarrassment to all Americans.
It was a devastating day regardless of your party affiliation, junior Madison Suenram said. 
"Either way, Trump supporter or not, Biden supporter or not, both sides have done wrong and I think everyone needs to focus on the bigger picture rather than be so quick to (take) sides," Suenram said of the storming, which was an apparent attempt by Trump supporters to block the Electoral College votes that confirmed Joe Biden as president.
Five people were killed in the incident, including a police officer who was trampled by protesters. Images of the violence and vandalism were seen all over the world.
Biden and Vice President Kamala Harris were sworn in on Wednesday.
"I can only hope he will make America better," senior Matthew Glen said of Biden. "People are starting to think they can solve anything with violence, but they can't."
Trump was widely criticized for causing the incident because of several provocative social media posts, including one that called for "total war." The storming occurred immediately after a Trump rally in Washington, D.C.
At that rally, Trump said, "You'll never take back our country with weakness.You have to show strength and you have to be strong."
After things had gotten out of hand, Trump sent out messages on Twitter urging supporters to remain peaceful. 
"Remember, WE are the Party of Law & Order – respect the Law and our great men and women in Blue. Thank you!" his tweet read.
Those efforts proved ineffective, leading Vice President Mike Pence to call on the National Guard to restore order — a move applauded by junior Ella Payne.
"The rioters needed to be stopped as soon as possible," Payne said. "The vice president had every right to call the National Guard."
Those few who did manage to breach the Capitol were closely documented in photos and videos clearly depicting the faces of people taking items and personal belongings. Among the items stolen were laptops, Ipads — and even House Speaker Nancy Pelosi's lectern.
"The people involved should be arrested," senior Hannah Queen said. "They broke into a government building and stole confidential information and trashed it. What they did was wrong and they should have to face the consequences of their actions."
The House last week impeached Trump for inciting violence against the government.
Some lawmakers were calling on Pence to exercise the 25th Amendment, which would replace any President deemed unfit to rule with his current vice president.
"The attempts to replace President Trump with Vice President Pence were justified," Queen said. "Pence made the call that Trump refused to make and Trump is not owning up to the fact that his supporters broke into the Capitol building. He did nothing to stop it or take blame for it. I feel like he just let it happen."