School Staff High on Vaccination Priority List
Teachers won't be required to be vaccinated
COVID-19 vaccinations will be made available to USD 305 staff in late winter or early spring, Superintendent Linn Exline told the Pylon in a recent interview.
"We won't require our staff to be vaccinated but will work with the Saline County Health Department to make it easy for our staff to have access to the vaccine if they wish to be vaccinated," Exline said. "I do think our teachers and staff should be very high on the priority list for vaccinations given the critical role they play in our students' lives, family stability and the community."
Gov. Laura Kelly created a five-phase vaccine distribution order. Phase One includes health care workers, residents or patients in senior housing and workers critical to pandemic response continuity.
Phase Two is a bit larger, including those age 65 and older, high-contact critical workers that are vital to the state security, the economy or public health and those who interact with large numbers of contacts.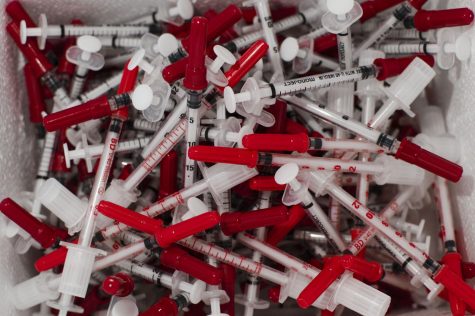 Teachers, first responders, grocery store workers, and many other essential workers are within Phase Two.
Science teacher Dustin Burgardt said COVID has had a big impact on learning. For example, concern about the virus has caused him to be cautious about how much contact he has with students. It also has made him rethink doing activities where objects are being touched by numerous students.
"I think the biggest concern I have is with the current schedule," Burgardt said, "because I only see students for 45 minutes instead of the 80 minutes I was getting during the previous schedule. I am forced to teach less content or skip some concepts."
The virus affects not just his teaching but also his home life, Burgardt said.
 "I definitely have concerns about my family's safety due to my contact with students," he said.
Although some teachers are hesitant about receiving the vaccine, Burgardt said he "can't wait" to get the vaccine.
"As a society, we have a priority to keep students in school," he said. "I feel that every citizen should get the vaccine to benefit society as a whole."
Burgardt said he trusts the school district's approach to the issue.
"I think all of the accommodations are necessary to limit the transmission in the school," he said.
Principal Matthew Brungardt said he believes that the school district has handled COVID the best of its ability.
"While we've had a number of positive cases, we've been able to get our students here and ready to learn," Brungardt said. "We're delivering education and we haven't been shut down like some other schools."
Dr. Brungardt said he would encourage teachers to take the vaccine if they asked him, but "it's ultimately their decision."
Senior Diya Bhakta is a CNA at Salina Presbyterian Manor. Since Bhakta and her co-workers are part of Phase One, they all were vaccinated. 
Some people are hesitant to take the vaccine due to possible side effects, Bhakta said.   
"I haven't had any symptoms," she said. "All I had was a sore arm the day after." 
Like Mr. Burgardt, Bhakta believes that everyone should do their part and get vaccinated. 
"I think it's important to help our immune systems fight the virus and to stop the spread of COVID-19," she said. "I would feel safer knowing that my teachers received the vaccine due to the amount of students they come in contact with." 
When more people are vaccinated, families will feel safer about sending students to school, Exline said.
"Our teachers and staff have done an excellent job protecting themselves and their students," she said.