Trying Something Trendy
Students have a new excuse to not get their homework done.
TikTok's 60-second videos are so addictive, minutes of scrolling turn into hours. You can select from an enormous range of sounds, from popular songs to short moments from TV shows. 
Teens are hooked. Parents might think it's a waste of time, but there's no denying its popularity.  
When opening TikTok, a wide variety of videos greet you. Watching a video of a teen lip-syncing to music or sharing something about their day, their romantic crush or school life might mean nothing to someone over 20, but to teens it could result in millions of views.
"I use TikTok for about one and a half hours on average every day," senior Valorie Alonso said. "The one-minute videos attract those with short attention spans, and a big chunk of Gen Z have short attention spans. I think it is a good app, but it really depends on the person. The FYP (for you page) makes it so the videos you like to watch appear more frequently." 
The reason so many love TikTok is the ability to post about anything including humor, hobbies, fitness, travel, music and dance. 
Creators take trends and put their own spin on them, while the linked music and hashtags are the common thread pulling the remixes together. Overall, what works on TikTok are concepts that people can easily recreate which have an element of fun, surprise and a track that is both catchy and of-the-moment.
Junior Gavin Dodge said he's a fan of the app. 
"I use TikTok a lot," he said. "I think it's so popular because there's such a wide variety and so many other things you can do. I think TikTok is a good app to spread awareness for things you might not hear on the news."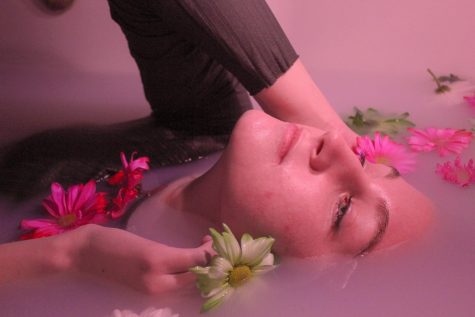 For a generation that is obsessed with taking photos, TikTok might be the perfect app. One popular photography activity is the Milk Bath Trend, which involves a model sitting in a bath of milk (with clothes on) along with flowers placed about them. The milk gives the bath water a foggy effect.
So I assumed the perfect thing to do was to see just how amazing these photos could turn out. I ran to the closest store, picked up some milk and cheap flowers and made my way home. I used Pinterest for more pose ideas as well.  At first I had my mom help. The lighting was bad, my body was awkward and ultimately I got cold. 
Luckily my friends came to my rescue. We fixed the lighting using our phone lighting and plastic bags, filled the bath up a little more and in I went. At first it was hard to get a good angle, my moms ancient camera wouldn't cooperate and I couldn't hold my breath. Every struggle has a good outcome though. 
I highly recommend trying something new when you're stuck on the same picture ideas all the time. TikTok is the perfect place to see new ideas being tested out. Step out of that bubble, even if you have to sit in a bath of milk for an hour. 
TikTok: @chsthepylon