COVID Chaos Reaches Central
Students, staff have lives turned upside down by virus
President Trump is on record saying that children "won't have a problem" with COVID-19. 
Some Central students would say otherwise. 
Although Central is taking precautions to prevent the spread of the virus — such as social distancing, mask-wearing and sanitizing between classes — students and staff are still being infected one by one.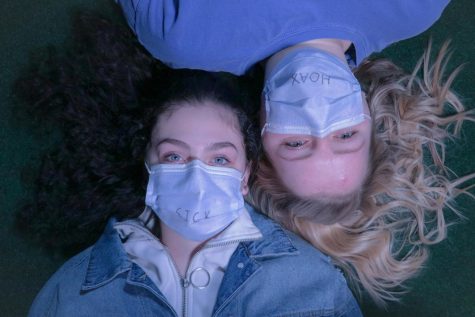 Senior Joelle Pfannenstiel said she contracted "a pretty bad case" of COVID from a co-worker. She had most of the known symptoms: nausea, aches and pains, dry cough, chest discomfort and lost sense of smell and taste. 
"I was almost hospitalized because I couldn't get enough oxygen to my feet," Pfannenstiel said.
Unlike Pfannenstiel, senior Anne Shadwick had no idea how she got COVID-19. 
"I found out I had COVID when I lost my sense of taste and smell, along with many other symptoms," Shadwick said. 
As soon as they both found out, they went into isolation. Although Pfannenstiel and Shadwick were quarantined, they were worried about spreading the disease to their friends and family. Shadwick had more luck than Pfannenstiel. 
"I held a lot of guilt because I was in a play, Antigone, and because of my involvement, I ended up quarantining the whole cast and crew." Pfannenstiel said.
Everyone involved took the necessary measures after they found out about her positive test results. 
"I felt appreciated because the theater department didn't hold any resentment towards me," Pfannenstiel said. 
This disease is not only detrimental to one's physical health, but also to one's mental health. COVID-19 definitely took a mental toll on both seniors. 
"It was really hard to be isolated all alone for such a long time," Shadwick said. "Getting out of my normal routine was very difficult."
Few can say that they've gone to school in a pandemic let alone being quarantined while doing online school. They both said they were distracted and had zero motivation to complete their school work. 
"I could barely think," Pfannenstiel said. "It's almost like my brain turned into mush."
Shadwick said that her teachers were flexible. 
"The first couple days of school were difficult because of the fatigue," she said, "but my teachers were very understanding."
Art teacher Mrs. Dykes was infected with the virus as well, causing her to have to teach from home.
"It wasn't exactly the easiest way to teach the potters about wheel and clay," Dykes said. 
Yet she said there were some positive aspects to teaching online.
 "I adapted well to teaching and communicating with my students remotely and didn't skip a beat," Dykes said. 
In contrast to the president's comment about young people's susceptibility to COVID, Shadwick said everyone from all ages should be taking the pandemic seriously.
"All the hospitalizations and deaths are not something to take lightly," Shadwick said. "Everyone who is partying or refusing to wear a mask at this time needs to understand that this isn't a joke and it shouldn't simply be dismissed."