Tragedy Averted
Central thespians overcome obstacles just like characters of Greek tragedy they performed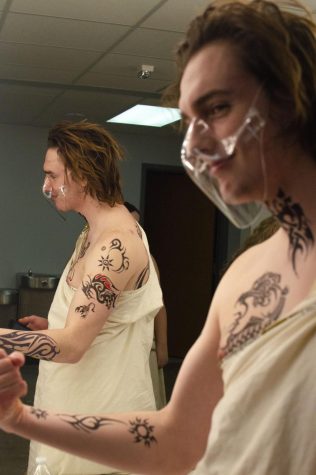 Quarantine setbacks not only didn't prevent Central's production of "Antigone" from going on, the show was so successful that it was one of eight selected from Kansas, Oklahoma and Texas to perform at the Kansas Thespian Festival.
Junior Anna Gutierrez said she enjoyed the show immensely.
"Honestly I would say Antigone was so different from any Central show I've ever seen," Gutierrez said. "It was really cool to see how they used different imagery in the show."
Even in the midst of a pandemic, the theatre department managed to pull off a successful and safe show. The play features human vs. moral rights, death and drama.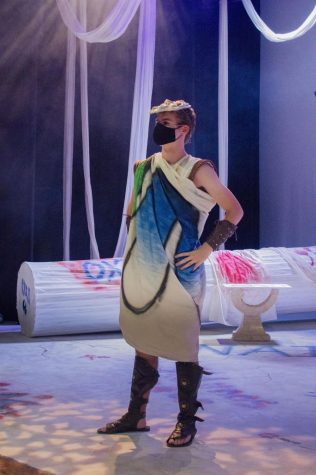 "The whole show is very much a power struggle between Antigone and Creon," senior Avery Smith said of Antigone, which is the third play of Oedipus Rex by Sophocles. 
After both of Antigone's brothers are killed in war, Antigone goes against Creon's instructions and gives her brothers each their own sacred ritual. Creon finds out and sentences Antigone to death. 
"The play is full of heightened and on-edge emotions," Smith said. "You get to witness her fear and her anger." 
Senior Spencer Angel played the other lead, King Creon. He describes his character as "a ruler with a strong fist and an ice cold heart." 
One thing that really stood out to Gutierrez was the costumes, specifically their unique masks.
"They all made their own masks based off of Greek mythology," Gutierrez said. 
The ancient Greeks believed in theatre as a form of catharsis: a way to purge the body of heavy emotions. This is just what audiences need right now: a chance to release some heavy emotions brought on by living through a pandemic.
The production took its own dramatic turn when members of the cast had to be quarantined.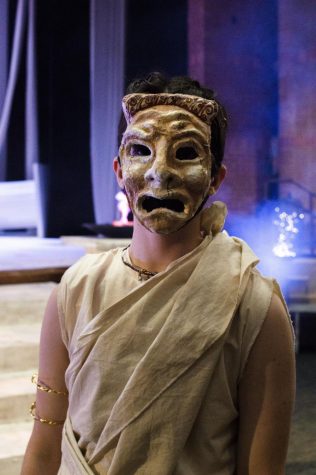 "Quarantine affected rehearsals and all of us greatly, but in a good way," junior Ethan Henry said. "Though we couldn't rehearse on stage and act out our scenes, we did Zoom practices and throughout our quarantine and we had more time to focus on our part in the production and develop our characters."  
Senior Joshua Cunningham said the group adapted extremely well.
"There was some adjusting we had to do," he said, "but overall it just made us make sure we knew what we were doing."
Taking all the necessary precautions, the show was able to go on.  Cast members all wore masks at all times, sanitized their costumes and props after every rehearsal,  socially distanced and avoided touching each other without cleaning hands.
"We all agreed to be as safe as possible outside of the show," Smith said, "so that we can stay healthy."