Gay Straight Alliance (GSA)
Hang on for a minute...we're trying to find some more stories you might like.
GSA is a club that was first created in San Francisco, California in the year 1998 for people who want to unify schools and bring more acceptance to the LGBT+ community.
In our school, History teacher Deidre Hoff and Math teacher Stephanie Johannes sponsor the club. There are meetings every first and third Thursday in Mrs. Hoff's room if you wish to join, but you need
to have a pass. Her class room is 1226.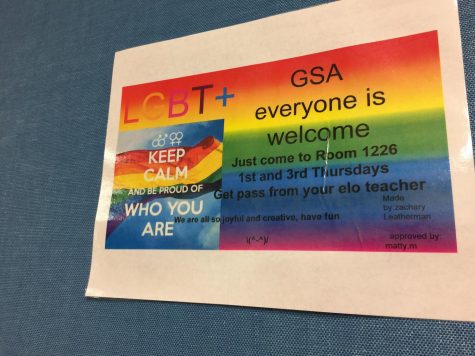 Kerrigan Hutton says "I joined because I myself am a LGBT supporter." I enjoy supporting those who are LGBT.
"Some pros are you can meet people that you didn't know were supporters or LGBT themselves which is great." says Hutton.
Genesis Resto says "A con to the club is we don't meet as much."
Resto doesn't think the club has faced any challenges yet. She would like to say that GSA is not for just gay students, it's for anyone who wants to join and show their support to those who are LGBT.
Here's some things Mrs. Hoff would like to say.
"Some cons are that people think the club is for gay students only, and that is not true. Anyone can join." So if you are looking for a club to join, look no further, GSA is a club for you!

Loading ...