Sticky notes with #WhyIDidn'tReport found in girl's bathroom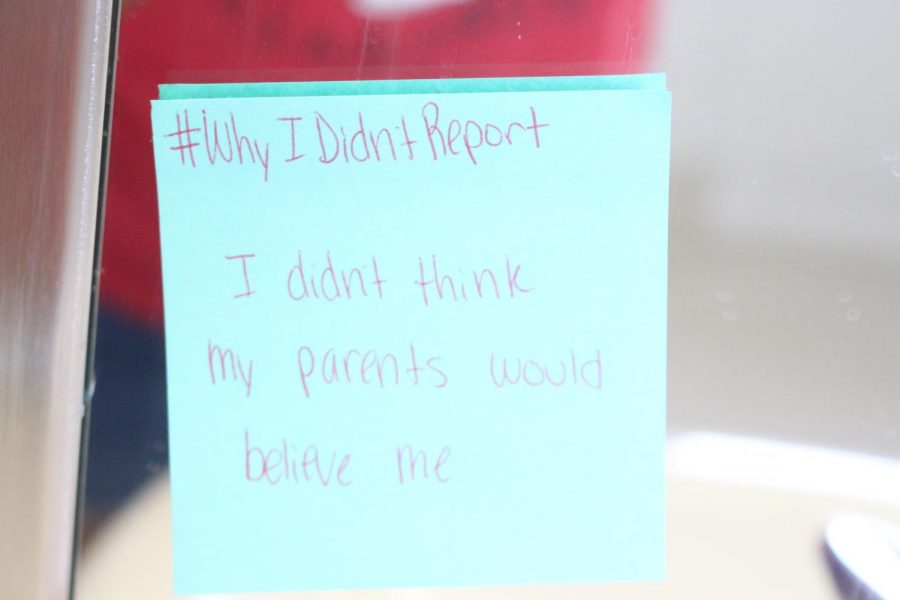 At 10:40 a.m. sticky notes were found in the girls bathroom on the top floor, written with the hashtag "WhyIDidntReport," leaving messages about sexual harassment.
Junior Amanda Ronquillo was one of the first to see them. "It actually hit me hard just because I've been there and had that experience. It's just opened my eyes and made me realize that rape is something that really needs to be talked about, with girls and just people in general."
The sticky notes were only up for minutes, but Ronquillo wants the topic to be around for a lot longer. She said that once you talk about it, it gets better, and makes it easier.
"I talked to assistant principal Scott Lee and he did not like the way we're going at it, so Monday we are going to talk to him about setting up a bulletin board about #WhyIDidntReport. Anyone is free to go put a sticky note up," said Ronquillo.
Ronquillo thinks that there will be much more than sticky notes, hoping the board will be filled with creative posters and all types of ways to acknowledge this hard topic.
"Write how you feel, If you've ever been harassed, sexually assaulted, raped, or anything that put you in a bad situation or made you uncomfortable, let's talk about it."
The sticky notes have been removed from the walls, but a movement has been started in hopes of helping high school students.

Loading ...