Sandbo's "Off" Season
Makayla Anderson, Anna Gutierrez, and Triniti Chance
October 2, 2018
Mark Sandbo, who was once a football coach in Dodge City, is now a household name in any Salina Central Student's home. Sandbo is known as many things; Coach, teacher, co-worker, etc. But more importantly, he's a husband and a father.
"I've never flown a kite before, in my life, but we started flying kites this week," said Sandbo.
Sandbo smiles as he speaks about his four year old son try to fly a kite. His wife and 8 year old daughter join him in this new activity. He and his family enjoy being outdoors and spendimg time together.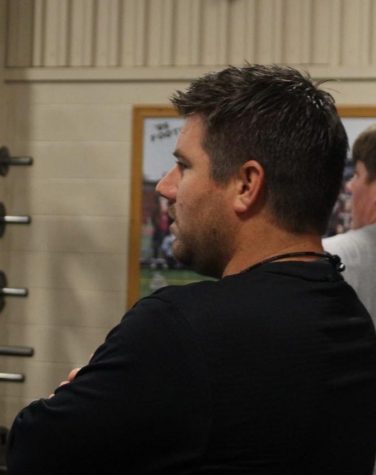 Sandbo's family comes to the home games, to support him in his coaching. His children enjoy the wins.
Sandbo says, "The kids celebrate by having their adrenaline up until midnight, and they go to bed and the house shuts down. That's what happens when you have kids. They shut down, you shut down."
Sandbo met his wife in college. "About 8 months in, we were pretty serious,"Sandbo said.

Not only is Sandbo devoted to Central's football team, but to his family. After his busy days, he spends the majority of his time with his family.  Either watching his daughter perform in cheer and dance, or spending quality time with his son.
There is more to Sandbo than meets the eye. He's a coach, mentor, husband, and a father.