Frequent flyer 'Miles'
Sophomore Miles Denning becomes avid aviator
Gage Burmaster, Annie Hayes, Miles Denning, Molly Michaelis
April 25, 2018
After School Air Time
As students await the last bell of the day, excitement for a chance to hang out with friends, rest and snack fills the air. For sophomore Miles Denning, the anticipation is because of his hobby- piloting planes.
"I always look forward to it through out the day. I've had several times where I'm sitting in class just thinking about flying and looking forward to my afternoon and what will come after school," Denning said.
Denning decided he wanted to become a pilot at the age of six after a flight he went on with his grandmother. As soon as he had the chance, Denning took the opportunity to get his pilot's license.
"My mom was very nervous. On my birthday I had my first solo flight. My instructor got out of the airplane and I flew by myself. That morning my mom was kind of having second thoughts about it. She didn't entirely want me to do it; but, my dad thinks its great and he looks forward to the day I can start flying him around instead of him driving to his meetings," Denning said.
Since getting his license at the young age of 16-years-old Denning has continued taking lessons and plans to go into aviation when he enters college.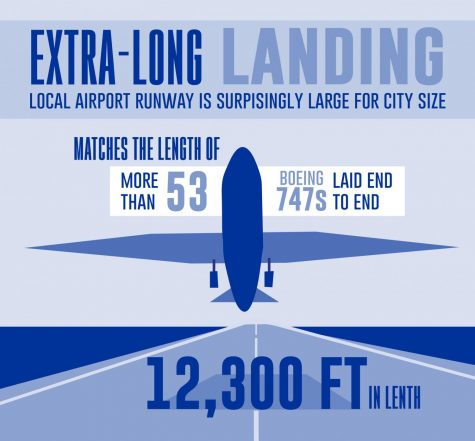 The Process
Denning has been using a flight simulator for five years to help him learn the phonetic alphabet and other piloting essentials.
"The first step into becoming an actual pilot was my flight simulator. Over the years I've used that to learn more about navigation and airplane systems" Denning said.
Denning contacted Schilling Aviation Services to begin his training process before his sixteenth birthday. His instructor, Jill Roberg, helps him practice flying about once a week.
"Every lesson is usually about an hour… Every once and a while we'll go on a fun cross country flight to Wichita or somewhere to grab lunch or breakfast," Denning said.
Managing the Air and Academics
Besides flying, Denning also participates in Jazz Band and Drumline. On top of homework, finding time to fly can be difficult.
"I'd say flying helps relieve some of the stress of school because I just kind of forget about everything else and focus on flying," Denning said.
Denning is the youngest pilot at Schilling Aviation, among many college students and adults.
"I think it's really cool to see what some of my friends have to say about my flight hobby. They seem really impressed that their friend in Algebra 2 is going to go fly airplanes after school," Denning said.
Despite scheduling conflicts with school, the conditions in the sky are rarely a problem for Denning.
"Weekends are great since I have a lot of time. You can really fly whenever— day or night. I haven't flown at night yet but I look forward to doing that. As long as the weather is permitting you're pretty much safe to fly," Denning said.
Safe and Secure
Although Denning's mother had some uneasiness when he began flying, Denning has never been worried about sky safety.
"I know if I follow my checks and procedures and fly the airplane plane like its supposed to be flown then I won't really have any problems," Denning said.
After the recent death reported on Southwest airlines, passengers expressed anxiety over plane welfare. However, Denning was unfazed.
"Deaths on airplanes never really freak me out. If you look at the statistics, flying is the safest mode of transportation even over walking. People walk everyday and they're not scared or nervous necessarily, so why be scared on an airplane when the odds are so unlikely to kill you," Denning said.
"
I've had several times where I'm sitting in class just thinking about flying and looking forward to my afternoon and what will come after school"
— Miles Denning
Head in the Clouds
Denning is grateful for the opportunities piloting has given him.
"Flying really brings a multitude of things into my life. I enjoy being able to do something I love and see the pretty sights as you look out of the airplane window. I get to experience new things, meet new people, and fly to different destinations. I just get to experience so many new things in life," Denning said.
When Denning prepares for a flight he is extremely eager to reach the air.
"Then I'm in the air it's just pure excitement. Once I'm in the airplane my heart rate might go up a little just because I'm excited, never really because I'm nervous. It's just so much fun to fly around and see everything," Denning said.
After returning to the ground, it can be disappointing, but Denning takes his time to reflect.
"I always look up when I'm driving away to where I was just flying and think— wow, I just just flying an airplane five minutes ago and now I'm here driving my car— It really puts things into perspective that you're in an airplane thousands of feet above the ground above everybody in Salina," Denning said.
Although the flight is over, Denning remains enthusiastic. He still has hours of airtime left in his early-started career.