Moon Over Manifest Book Review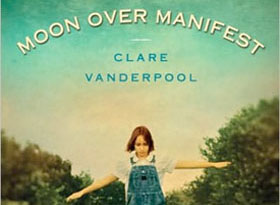 Hang on for a minute...we're trying to find some more stories you might like.
"Still, I liked imagining that the chain of that broken compass was long enough to stretch all the way back into his pocket, with him at one end and me at the other." Moon Over Manifest by Clare Vanderpool is about Abilene's journey to find her fathers footprint in the small town of Manifest Kansas. 
The book shows a small community coming together and welcoming Abilene into their small community.
Moon Over Manifest is a wonderful read as long as the reader can get through the beginning. The book drags on until about page 250 when it starts to really get interesting.
However, once the exposition is over, the reader will hold on to every word of the book. The reader will be entranced by Clare Vanderpool's wonderful description of the struggles of a young girl in search of her fathers background in the town on Manifest.
The Newbury Award winning book is a wonderful book to read to learn about small town in Kansas in the early 1900's.
I would rate this book a 4 out of 5.