IHOP: International House of Roaches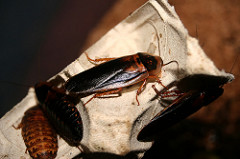 Hang on for a minute...we're trying to find some more stories you might like.
IHOP the International House of Pancakes or it can also be called the International House of Roaches.
On an early school morning me and my friend decided to go to IHOP to eat breakfast which was one big mistake. Our waiter did not come to get our orders or even ask what we wanted to drink until thirty minutes had past and the workers weren't even busy they were sitting down and talking to each other plus we were the only ones there, so we thought. As we waited for our waiter a cockroach falls from the ceiling onto our table me and my friend start screaming and the workers just stand there and look at us like we're crazy. We decided to move to another booth and start noticing a bunch of roaches crawling and eating the food that was on the ground, there were also tons of them squished on the floor . I give the IHOP by the Central Mall on 9th street a 3 out of five stars and I do not recommend going and eating there.