Second language as a requirement?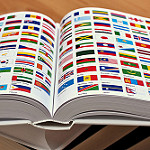 Hang on for a minute...we're trying to find some more stories you might like.
When it comes to learning a new language, there are varying opinions. Every student can decide on their own if they want to take a foreign language or not.
Sophomore Carly Redding said that she only took Spanish her freshman year because she thought it was required to graduate. If she would have known that it was voluntary, she probably wouldn't have taken it.
"There are some kids that don't really have the motivation to go take that class. Then, they will be in that class that they don't wanna be in and then it kinda ruins it for everybody else. It ruins the learning experience for everyone," Redding thoughtfully explained.
French teacher Jan Denning supports the idea of speaking two languages.
"I would like to think that it would be required because learning a language not only helps students with other test scores, it teaches them how to problem solve, to think. It teaches them acceptance of others, of differences between other cultures, and I think that's something that we need," Denning said.
She started learning French in high school and continued taking it in college until she finally studied in France to improve even more.
Assistant Principal Scott Lee thinks that it should be required that a student takes a second language as well.
"I think that we are an increasingly global society. I think that travel is easier than it ever has been. The internet has connected us more than it ever has," Lee explained.
He also focuses on age, an aspect that is commonly overlooked in the decision of choosing to take a foreign language. In 9th grade, most of the students are already 14 or 15-years-old. This makes learning a foreign language even more difficult.  
"If I had my perfect world, I know that a lot of countries study foreign languages as early as kindergarten or first grade. Really if you look at statistics students have a pretty plastic mind, plastic meaning malleable. Between the ages of two and six, that is kind of the primary age of language development, so the earlier the better." Lee mentioned.
"I think we should take a foreign language for at least two years just to like get an idea of what another language sounds like," Junior Haley Gunelson expressed, having taken two years of Spanish.
Her first reason she gave for taking Spanish was because it looks good on college applications. Depending on what college or field you want to go to in your future, taking a foreign language in high school is an important requirement. Gunelson's second reason why she wanted to learn Spanish was that there are a lot of Spanish-speaking people in the United States.
"It's kinda cool to learn a little bit about what they are talking about." said Gunelson.