Ladies Cross-Country Team Snags Regional Title
Hang on for a minute...we're trying to find some more stories you might like.
Story by: Karley Benson
In Emporia on Saturday, the ladies cross-country team took first place and earned a spot at state.

The Ladies Cross-Country team starting their race.                                   Photo by: Huey Counts
Freshman Kadyn Cobb led the team with a third place finish. Cobb says,"There was a girl right behind me and all I could think about at the end of the race  was finishing ahead of her because every point matters for the team title."

Freshman Kadyn Cobb. Photo by: Huey Counts
Junior Zoie Counts also racked up some points for the team with an eighth place finish. Counts explains,"I've been running since I was 1o. I fell into a leadership position this year because the other girls would ask me for advice and tips on running."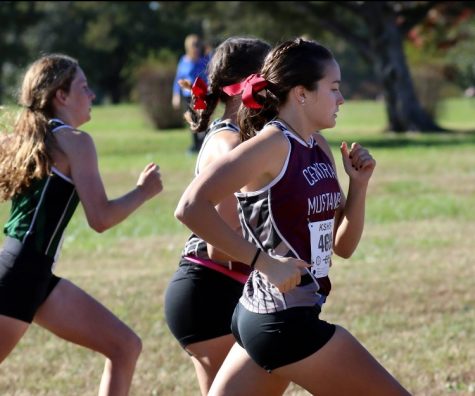 Junior Zoey Counts. Photo by: Huey Counts
Junior Andrea Hays, another state-bound runner, believes that the team deserves to be proud of their regional success but needs to focus on preparing for state.
"We are keeping a positive mindset and taking the practices seriously and the races one step at a time" explains Hays.