Tennis team has successful start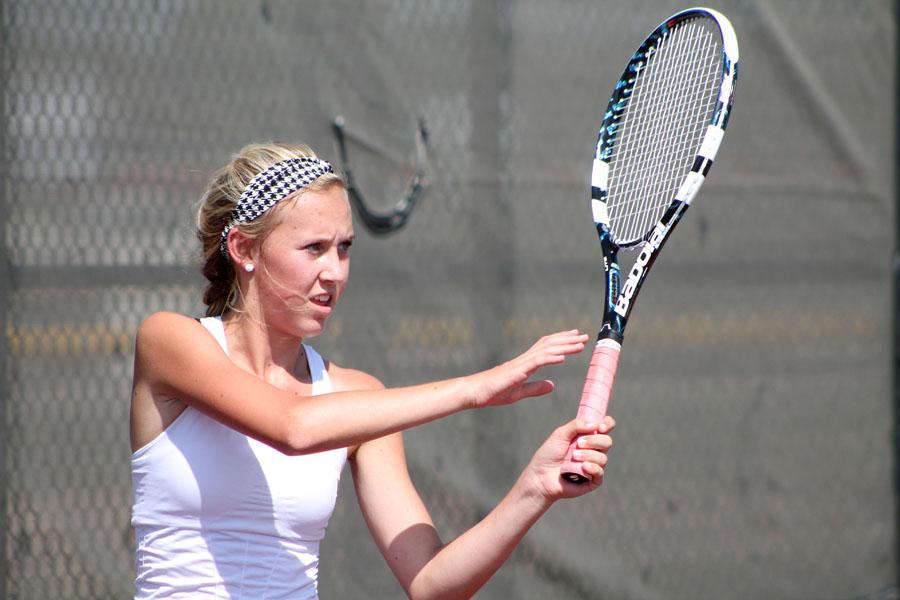 As freshman Caroline Holgerson smashes a return back across the net she feels sweat dripping down from her face. Holgerson's heart is pounding, her feet are aching, and it feels like her chest is just running out of air.
"Central tennis is hard work, but if everyone cooperates as a team and we all play well together, then we will have a great year," said Holgerson.
The girls' tennis team is off to a great start winning their first two meets of the season.  The first tournament, sophomore Sydney Kossow, freshmen Brittany Blackim, Paige Hieger, and Holgerson all played singles.  The team placed first.  Saturday was a doubles meet including, juniors Morgan Hauserman and Meg Johnson, sophomore Jera Richardson and junior Megan Johnson, and sophomores Ashley Sankey with Mackenzie Carlgren.  All three of the doubles teams played great going undefeated each winning four games.
Like any team sport, there are team goals and individual goals.  Individuals work on their own game hoping to contribute to the team's efforts.  Tennis Coach Linda Johnson said, "My goals for our team are to have success, to have fun, continue to learn, and improve the way we play."
Players have a positive outlook as they look forward to this season.  There is a meet today and all of the players are looking forward to it.  Hieger said, "I think the team should be pretty successful with us practicing and putting in our time."  Holgerson said, "This year's tennis team is good.  We all get along, and have a great team." Coach Johnson is impressed with the girls and how everyone has stepped up to the challenge.  She thinks this year is going to be great.